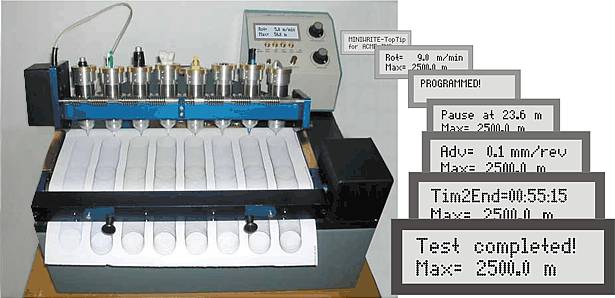 If you buy or produce:

ball pen, gel (jelly) or roller tips
refills
markers and fibre pen
ink for ball pen
ink for markers and fibre pen
ink for roller pen
ink for gel (jelly) pen
fully assembled ball pens and markers!
paintbrushes
cosmetic brushes or pencils
you absolutely must have our MINIWRITE/XP fully assembled ball pen writing test machine!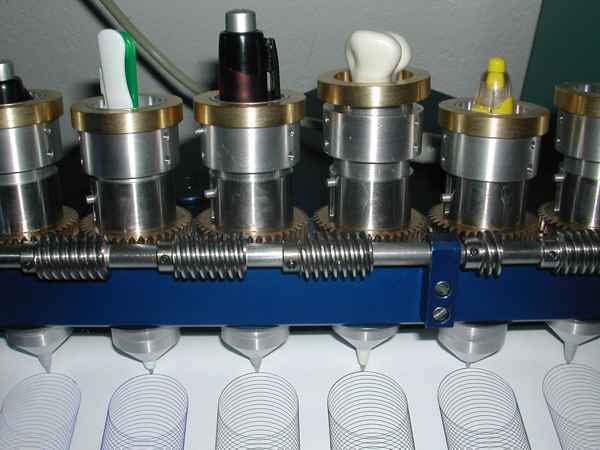 Actually only with its new high precision microprocessor control you can test the quality of your ball pens, refills or inks (and now even paintbrushes or cosmetic pens) in an absolutely objective and repetitive way, as all writing conditions are tightly under control. A practical multi functional LCD display helps you to check at any time all important parameters with most indications in clear English or with easily understandable abbreviations.
Thanks to a very sophisticated software, you can now define exactly the paper advancement during each revolution regardless of writing speed for easier handling and better comparison of different tests.Standard minimum advancement is 0.3 mm per revolution (but you can ask for a lower value as you wish) so that you will save a lot of paper for life tests of most refills.
Additional informations like the time needed to complete the current test are available at any time.
You can easily modify following parameters:

writing speed of refill (in meters per minute)
paper advancement (in mm per revolution)
length of writing test (in meter)
automatic stop after a predefined writing length (in meter)
momentary pause and restart at same speed and paper advancement
writing angle
writing force ranging from 1 to 2 N (definable at order)
writing force ranging from 0.07 to 4 N (special version MINIWRITE/ZF)
All modified parameters will be remembered by the machine even after switching it off.
Main Characteristics:

Voltage:
220 V - 50 Hz (optional 110V - 60 Hz)
Weight
~40 Kg
Paper advancement (distance between circles)
0.3 - 6 mm/rev (0.1 - 8 mm/rev optional)
Writing speed
2 - 9 m/min
Writing length
0.5 - 9999. meters
Writing angle
60° - 90° (30° - 90° optional)
Writing force (definable at order)
1.5 N (1 - 4 N optional)
Writing force (special version MINIWRITE/ZF )
0.07 - 4 N
Paper roll dimensions

| | | |
| --- | --- | --- |
| width: | 381 | mm |
| external diam.: | 100 | mm |
| core diam.: | 25 | mm |
| paper length: | 100 | m |
Special adapters for testing refills, markers or out of standard refills are available on request.
Several parameters may be adapted on request to your special needs.
Special paper rolls for testing ball pen/roller/marker and gel tips are available.
Please send us samples of all the pens you want to test in order to check if they all fit in our standard adapter. Some pens may require special adapters.
Here you may see a small selection of ball pens which can be tested on our MINIWRITE/XP:


If you want to know in detail how this machine is working, you may download the complete Operation Manual (240KB)
If you need to test only refills and tips you may check our MINIWRITE/X write test machines.
External appearance and characteristics may be modified without notice
(*) Patent pending