Magnetic SS/TC tips selector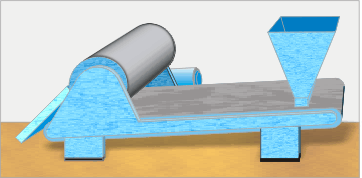 This magnetic selector is an absolutely needed tool in every tips production plant. It allows you to check your complete production of tips if the stainless steel ball has been properly inserted.
The tips are inserted in a large container and then released to a belt in a well regulated way.
They are then carried below an extra strong magnet in shape of a cylinder, which will attract all good tips. These will be gently lifted and then released in the 'good tips' container.
All tips without SS or TC ball are on the other hand rejected and collected in the 'bad tips' container. Your customers will be pleased for this improvement, for as you know, nothing is worse than the need to clean the refill assembly machine because of one single tip without its ball.

Main Characteristics:

Voltage
220V - 50 Hz
Weight
~30 Kg
Production speed
up to 200'000 SS tips/hour *)
up to 25'000 TC tips/hour *)
*) depending on tip model
Machines with higher production rates available on request
Please contact us for any enquiry or additional informations.
Download this page as pdf file (330KB)

External appearance and characteristics may be modified without notice