Refill Write Test Machine
>> Now with microprocessor control! <<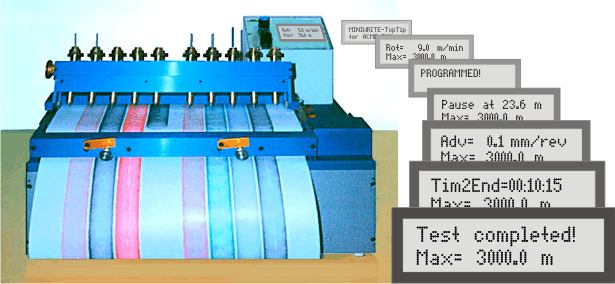 If you buy or produce:

ball pen, gel (jelly) or roller tips
refills for ball pen
markers and fibre pen
ink for ball pen
ink for markers and fibre pen
ink for roller pen
ink for gel (jelly) pen
you absolutely must have our
MINIWRITE/X
refill writing test machine.
Actually only with its new high precision microprocessor control you can test the quality of your refills or inks in an absolutely objective and repetitive way, as all writing conditions are tightly under control.
The MINIWRITE/X writing test machine is able to check refills according to ISO 12757, ISO 14145, ISO 27668, DIN 16554/2 and JIS S6039 requirements as you can easily modify all parameters like writing speed, paper advancement, writing angle and length of writing test.
You will therefore be able to definitely compare and evaluate the writing width, the maximum writing length, the ink consumption and the quality at different writing speeds of your refills.
We would like to emphasize that this is the only machine where once you set the distance between 2 circles, it will remain the same regardless of writing speed thanks to its very sophisticated software which automatically adapts the paper advancement speed thus eliminating the need for lengty manual adjustment.
On the large display you may continuously read various data like the time needed to end the test, the required paper length and other information. And last but not least, most parameters and measurements are shown on the display in clear english or easily understandable abbreviations (other languages possible).
Additional informations like the time needed to complete the current test are available at any time.
You can easily modify following parameters:

writing speed of refill
paper advancement
length of writing test
automatic stop after a predefined writing length
momentary pause and restart at same speed and paper advancement
writing angle
writing force (definable at order)
All modified parameters will be remembered by the machine even after switching it off.
Main Characteristics:

Voltage:
220 V - 50 Hz (optional 110V - 60 Hz)
Weight
~38 Kg
Paper advancement (distance between circles)
0.3 - 6 mm/rev (0.1 - 8 mm/rev optional))
Writing speed
2 - 9 m/min
Writing length
0.5 - 9999. meters
Writing angle
60° - 90° (30° - 90° optional)
Writing force (definable at order)
1.5 N (i.e. abt. 150 g) (1 - 4 N optional)
Paper roll dimensions

| | | |
| --- | --- | --- |
| width: | 381 | mm |
| external diam.: | 100 | mm |
| core diam.: | 25 | mm |
| paper length: | 100 | m |
Special adapters for testing markers or out of standard refills are available on request.

Several parameters may be adapted on request to your special needs.
Special paper rolls for testing ball pen/roller tips and gel tips are available.
If you want to know in detail how this machine is working, we would be pleased to send you the user manual.
If you want to test fully assembled ball pens you must get our MINIWRITE/XP write test machines.
External appearance and characteristics may be modified without notice
(*) Patent pending